Ottmar W. Schütz makes a clear statement to politicians
"Too little has happened in the last five years!"
At their joint annual kick-off event at the end of January, the Association of Construction Entrepreneurs in Hesse e.V., the Hesse-Thuringia Construction Industry Association e.V., the Association of Consulting Engineers and the Association of German Master Builders, Architects and Engineers (BDB) Hessen Frankfurt e.V. welcomed more than 200 guests to Frankfurt.
In his welcoming address, Ottmar W. Schütz, Vice President of the Association of Construction Entrepreneurs in Hesse, emphasized: "Hesse is an economically strong state. This should remain so. But improvements are needed in important areas of the state: Above all in housing construction, and in transport policy. In both areas not enough has happened in the past five years." His message to state politicians was clear: "From our point of view, the rejection of the reduction in the land transfer tax in your coalition agreement is disappointing. People who purchase residential property relieve the rental market and at the same time provide for their pensions. Instead of setting up complicated and expensive subsidy programmes, this would be a fairly simple way of reducing the cost of buying a home."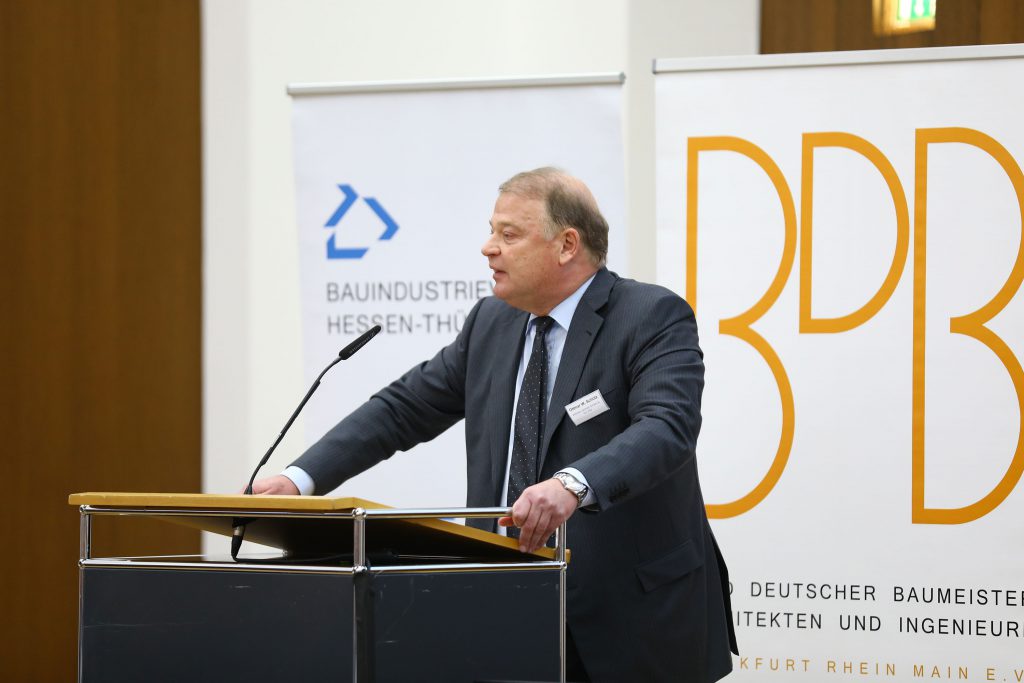 "Improvements are needed in important parts of the country: Especially in housing construction, but also in transport policy".
Stefan Roth, President of the Hesse-Thuringia Construction Industry Association e.V., also stated that the construction industry must receive reliable political framework conditions in order to remain efficient. "The steady growth of the sector proves that we are efficient and thus provide economic growth and prosperity as an important component of the economy".
Tarek Al-Wazir, Hesse's Minister of Economic Affairs, whom Schütz recently welcomed in Weilburg, commented on the challenges facing the construction industry as follows: "Our aim is to ensure that everyone in Hesse can find a good home at an affordable price. In other words, we want to curb the sharp rise in rents. This requires many players. The state government will play its part with the most comprehensive package of measures that Hessen has ever seen. In future, too, no application for subsidies for social housing construction will be rejected for financial reasons. We will therefore increase the funds again. We will also continue to increase the road construction budget. For implementation we need a strong construction industry."
High-quality construction work is the driving force behind the German construction industry. But the decisive course must also be set in politics. Schütz is at the forefront in both areas!
Source: www.bgvht.de